John at the Villa Savoye by Le Corbusier
John Klopf, AIA – Principal Architect
John Klopf is a licensed architect and member of the AIA with 30 nearly years in the field. He is the Founding Principal of Klopf Architecture, which he started in 2001 after working for a few other firms. John, along with his wife and their two sons, lives in San Francisco and enjoys walking his dogs to work, skiing, and playing competitive backgammon.
John was born in Cleveland Ohio, and is a graduate of both Harvard (Bachelor, 1993) and Berkeley (Master of Architecture, 2000). While at Berkeley, he won the highly competitive Branner travel fellowship for nine months of fully-paid independent architectural study in Japan, Europe, and Scandinavia. While at Harvard he studied abroad for one semester in Nanjing, China.
In addition to practicing architecture, John has taught design at USF (the University of San Francisco) as an adjunct professor, taught introductory design classes at Berkeley as a lecturer and graduate student instructor, and managed a major sustainability research project for the architecture department at Berkeley.
Today architectural practice consumes all of John's professional time. He focuses on modernist homes, Passive Houses, net-zero energy homes, and mid-century modern buildings in general. A certified Passive House Designer, he is excited to be working on more net-zero energy modern houses and modern style, indoor-outdoor, Passive House homes.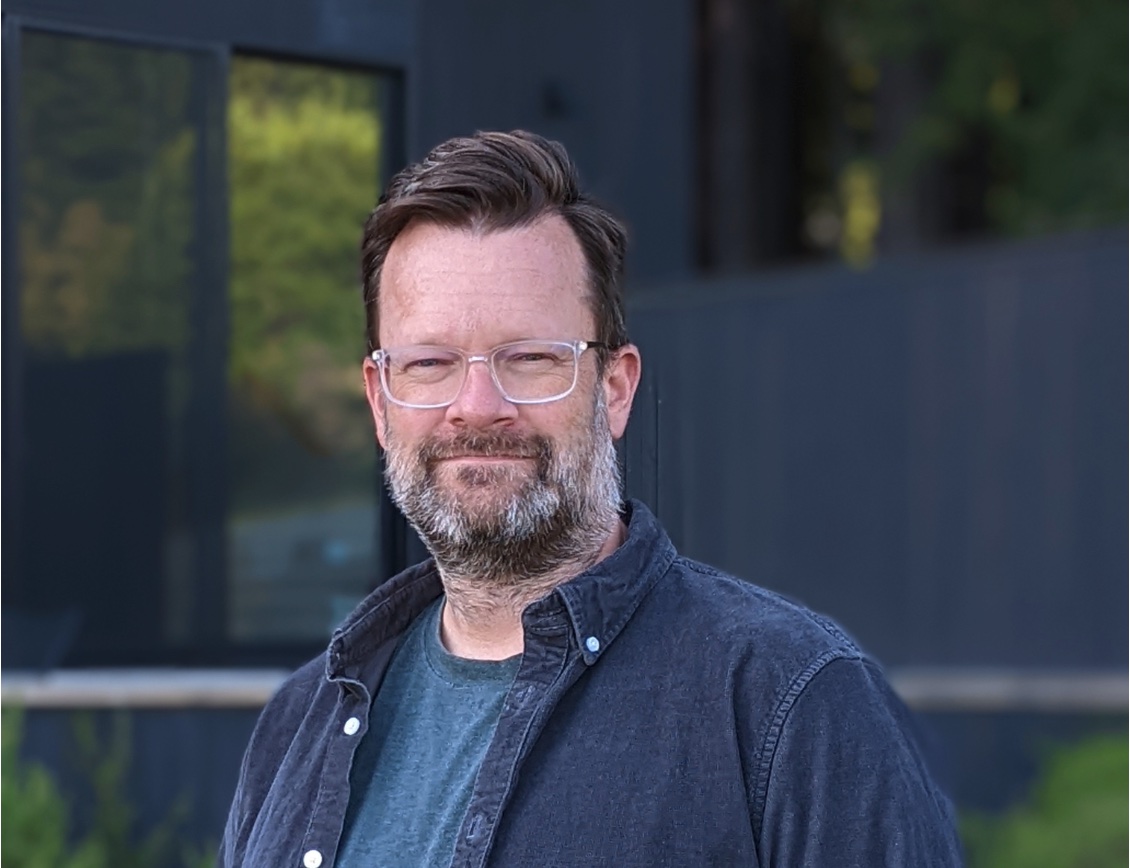 Geoff at Castle Black, The Sea Ranch
Geoff Campen – Principal Architect
Geoff is a Principal Architect of the firm. He has been a designer, Project Manager, and Architect with Klopf Architecture since 2009, and has worked in architecture for more than 25 years. He graduated with a 5-year professional degree – Bachelor of Architecture – from Philadelphia University in 1997. Geoff has a wide range of architectural and design experience ranging from modern residential to commercial office to sports facilities to socially relevant installations, and manages many modern residential projects for Klopf Architecture's clients.
As a partner in the firm, Geoff shares in the management and direction of the firm, continues to develop the design vision, mentors project managers and designers, and leads key projects. Geoff and John constantly push each other to keep improving the firm's design direction while honoring the firm's history and portfolio.
Geoff lives with his wife Diana between San Francisco and The Sea Ranch, travels and explores as much as possible, creates and collects art, and plays soccer when possible. He strongly believes in socially relevant modern design and strives to apply these sensibilities to his personal and professional work.
Angela at the Schindler House by R.M. Schindler in Hollywood
Angela Todorova – Principal Architect
Angela has been with Klopf Architecture since 2011. She has a deep-rooted passion for architecture. Angela is originally from Macedonia, she grew up interning at her father's structural engineering and general contracting company, where she fell in love with watching creative concepts and designs transform into tangible physical spaces. Motivated by her love of design, Angela focused her academic study on architecture by enrolling in the Architecture and Engineering program at her university in Macedonia, and has also studied architecture in Italy ad Greece. In 2006 she seized the opportunity to transfer to the United States and complete her studies in San Francisco. She received her Bachelor's degree from California College of the Arts in 2010.
Soon after receiving her 5-year professional degree at CCA, Angela joined Klopf as a Project Assistant and worked her way up over the years, became a licensed architect, and is now a Principal Architect and senior leader in the firm. She has led scores of modern and mid-century modern residential projects ranging from remodels to complete new homes for our clients.
Angela lives in Oakland, and misses the days of biking to work when she used to live in San Francisco. She enjoys tennis and horseback riding as well as architectural travel.
Klara in Twin Peaks, San Francisco
Klara Kevane – Project Architect
Klara is a Project Architect who has been with Klopf Architecture since 2013. She has over 23 years of experience in the field on both coasts. Formerly licensed as an architect in Connecticut, Klara studied history of art and architecture as an undergrad at Brown University and received her Master of Architecture degree from the University of Oregon in 1999.
In addition to her previous professional experience, Klara has led dozens of modern home projects ranging from mid-century modern remodels to new modernist homes while at Klopf Architecture. Contractors and clients have appreciated her devotion to her projects and her attention to design and detail.
Klara lives in San Francisco with her husband and their daughter. She enjoys walks with her daughter, novels, short stories, foreign films, travel, and spending time with family and friends in the Bay Area and points beyond.
Yeg at the Church of Light, Osaka Prefecture, Japan
Yegvenia Torres Zavala – Lead Designer
Yegvenia, or Yeg for short (pronounced "Jegg"), is a Lead Designer at Klopf Architecture joining the firm in 2013. Yeg traveled often between Tijuana, Mexico where she was born and San Diego, CA where she grew up and was fascinated by the differences in architecture while each managed to retain their own culture. In both, indoor-outdoor living is celebrated. Throughout her travels to Mexico and Latin America, Jeg appreciated that private outdoor spaces are an important feature in architecture, and having that connection between indoors and outdoors is ingrained in her cultural identity.
Yeg identifies with the designs of Mexican architect and engineer Luis Barragán, where his modernist style represents a true melding of spaces, questioning what's really indoors and what's outdoors. Her work at the firm represents a range of both modern and mid-century modern projects.
She received her bachelor's degree from the California College of the Arts in 2012 and has also studied in Italy and Brazil. She lives in San Francisco's SOMA district, bikes to work, and enjoys travel, photography and jewelry design. She is fluent in Spanish.
Ethan in Ostia Antica, Italy
Ethan Taylor – Lead Designer
Ethan is a Lead Designer at Klopf Architecture. He joined the firm in 2014 and has led numerous modern and mid-century modern residential projects. Ethan grew up living in a wooded cabin that opened onto a Colorado State park, and has always had a keen connection with the outdoors. He's deeply inspired by mid-century modern design's inherent connection to the outdoors and holds a fascination with the intersection of the built and natural environments. It was an organic progression that led Ethan toward mid-century modern design, with its focus on transparency between the envelope of the inside and the outside. He strives to find unique ways to open buildings up, and create compelling connections between clients and their surrounding environments.
Ethan received his bachelor's degree from the University of Puget Sound, Washington in 2009. He also completed a graduate program at Columbia University, New York in 2010 and studied in Rome, Italy. He lives in Marin and enjoys skiing, surfing and photography
Noel at Chichen Itza, Mexico
Noel Andrade – Lead Designer
Noel is a Lead Designer at Klopf Architecture. He joined the firm on the first day of 2016 and has led a number of modern style remodel projects for the firm's clients. Noel grew up swinging a hammer, following his father's footsteps in construction, and understands how things are built, playing out well in helping to keep his drawings moving smoothly forward during the design process.
He applies a philosophical approach to his work, characterized by phenomenology, the manipulation of space, material, and light and shadow that define the way clients experience their house. Noel likes bringing things together as a problem solver, working within clients' constraints, and finding viable solutions in a collaborative way. He finds it satisfying that he can have a direct effect on people's lives, developing designs that reduce their stress while improving light and airflow in their living spaces. The energy has to be right and designing positive energy into spaces that work for clients is important.
Noel grew up in Chula Vista, California, and earned his BArch from the California College of The Arts. He also studied abroad in Brazil, surveying the infrastructure development for the 2016 Olympics and World Cup. Noel lives in San Francisco and enjoys music, painting, cooking, biking, playing soccer, and the outdoors.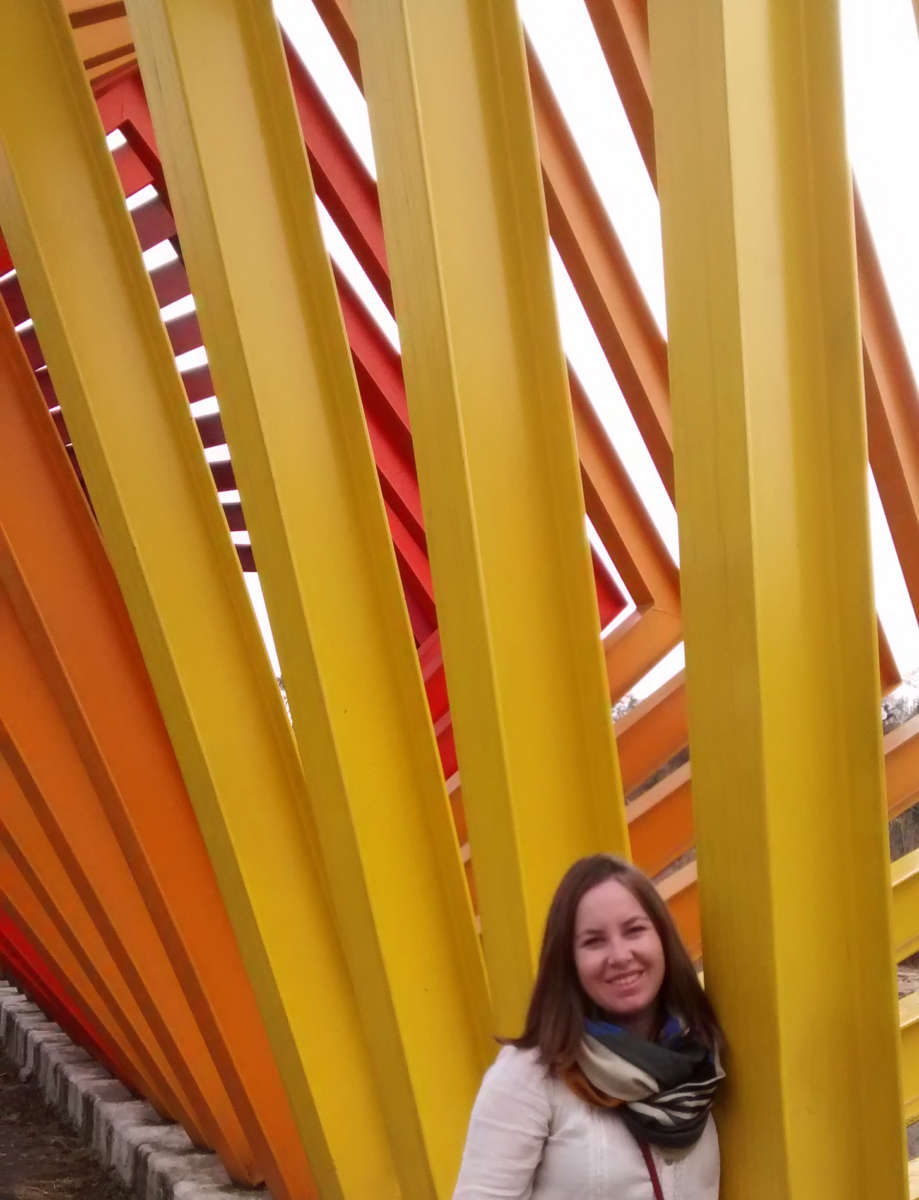 Lucie at Espacio Escultorico, Mexico City
Lucie Danigo – Lead Designer
Lucie is a Lead Designer at Klopf Architecture. She joined the firm in 2017 after working in Paris and Mexico City. Beginning at age 12, Lucie would draw floor plans for fun, deciding later to pursue it as a career. Lucie stumbled upon California mid-century modern design while studying in France, and was immediately attracted to its indoor-outdoor spaces, exposed wood structure, and clean lines. Following her interest, years later she started working at Klopf Architecture on Eichler homes.
Lucie enjoys listening to clients as they share their story, getting to understand how they use their living space, and envisioning a design tailored for them as a means toward improving their everyday lives. Having practiced and studied architecture on different continents she's gained an appreciation for how individual cultures may experience spaces differently, an important factor in designing for our multicultural clients. In her years at the firm, Lucie has worked her way up contributing to and leading projects of all scales from interior remodels to new construction.
She grew up between Latin America and France, earning her master's in architecture at l'Ecole d'architecture de Paris La Villette and completing a one-year exchange program in Fukuoka, Japan. Lucie lives in San Francisco with her husband and their son, enjoying cooking, strolling in the Golden Gate Park, and exploring California with friends. She is fluent in French and Spanish.
Fernanda Bernardes – Senior Designer
Fernanda is a Senior Designer at Klopf Architecture, joining the firm in 2017. Fernanda enjoys working with clients, first understanding who they are, and what they're asking for, then collaborating with them on different design solutions. She likes puzzles and problem solving and feels design is just that, proposing new ideas and workable solutions to clients within certain boundaries. Fernanda is inspired by how design can have an impact on a homeowner, their family, and ultimately the larger community.
She grew up between Brazil and California where she earned her BArch at California College of the Arts in San Francisco and also studied abroad in Madrid. Fernanda lives in the East Bay with her family and four dogs where she enjoys live music, outdoor activities, reading and traveling. She is fluent in Portuguese.
Trenton in Guatapé, Colombia
Trenton Jewett – Senior Designer
Trenton is a Senior Designer at Klopf Architecture. He joined the firm in 2018 after working on various commercial and residential projects in the Bay Area. His creativity in designs and technical knowledge in CAD along with his strong communications skills make him a valued member of the Klopf team. His broad technical skills in creating drawings, models and presentations continues to drive our projects forward, clearly illustrating the designs and concepts out to clients.
He earned his Bachelors of Architecture at California College of the Arts. Trenton lives in San Anselmo and enjoys traveling, cooking and hiking.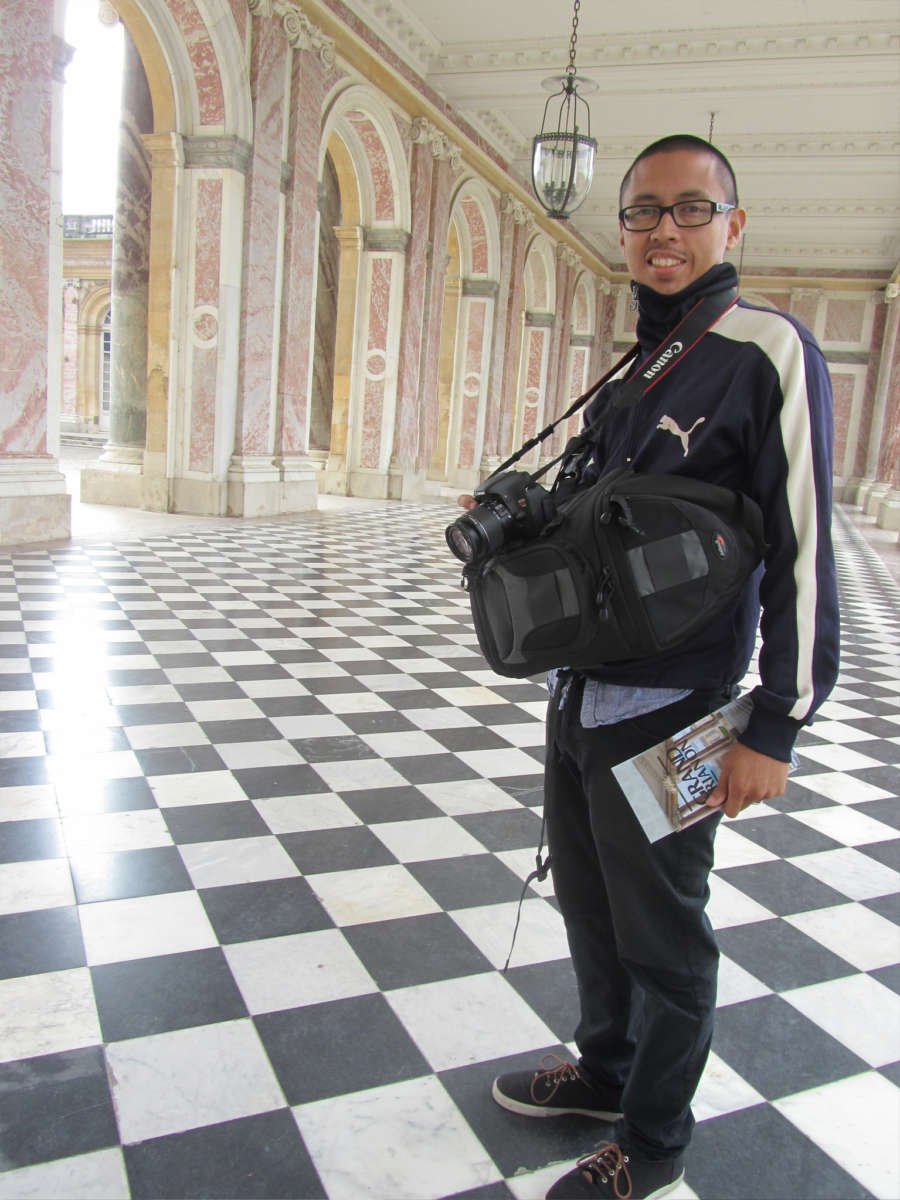 Doug at the Palace of Versailles in Paris.
Doug Ponciano – Senior Designer
Doug is a Senior Designer at Klopf Architecture, joining the firm in 2021. He was born in San Jose, California where his love for architecture started as early as elementary school. There, he developed a fascination for design and construction through an older cousin who was studying architecture at the time.  He began studying in San Luis Obispo before continuing to San Francisco, where he received his bachelor's degree from the California College of the Arts in 2010. As he began working in an architecture office shortly after graduation, he also co-founded a 3D printed eyewear company, where he spent three years refining his appreciation for custom design solutions through couture products.
Since then, he has come to enjoy getting to know and understand the lifestyle, needs, and values of clients so he can work to serve them through designing couture homes that have been custom tailored for their purpose. He has worked on a variety of homes ranging from traditional to contemporary but has come to acquire a taste for modern design aesthetics.
Doug and his family currently reside in San Francisco. He enjoys gardening, hiking, and photography.
Sherry at the Space Needle, Seattle.
Sherry Tan – Senior Designer
Shuyu Tan, or Sherry is a Senior Designer at Klopf Architecture. She joined the firm in 2017. Sherry has always been inspired by design and especially appreciates the role she plays in helping to create spaces that affect people's lives in so many ways. She enjoys the process of taking a client's ideas, translating them into a program which then becomes a reality for the client. Sherry likes working in residential architecture because of the human factor in which people are able to share their house with friends and family but in the end, always having a place to settle into that is comfortable and secure for them. She loves having a part in their lives.
Sherry especially enjoys working within the team environment and is inspired by collaborations with colleagues in which new ideas come together to create pleasing and practical solutions for clients.
Sherry grew up in China and earned her BArch in from University of Wisconsin-Milwaukee in 2014. She completed her graduate program at Washington University in St. Louis in 2016. Sherry lives with her husband and their two cats in San Francisco and enjoys painting, traveling, food and reading. She is fluent in Mandarin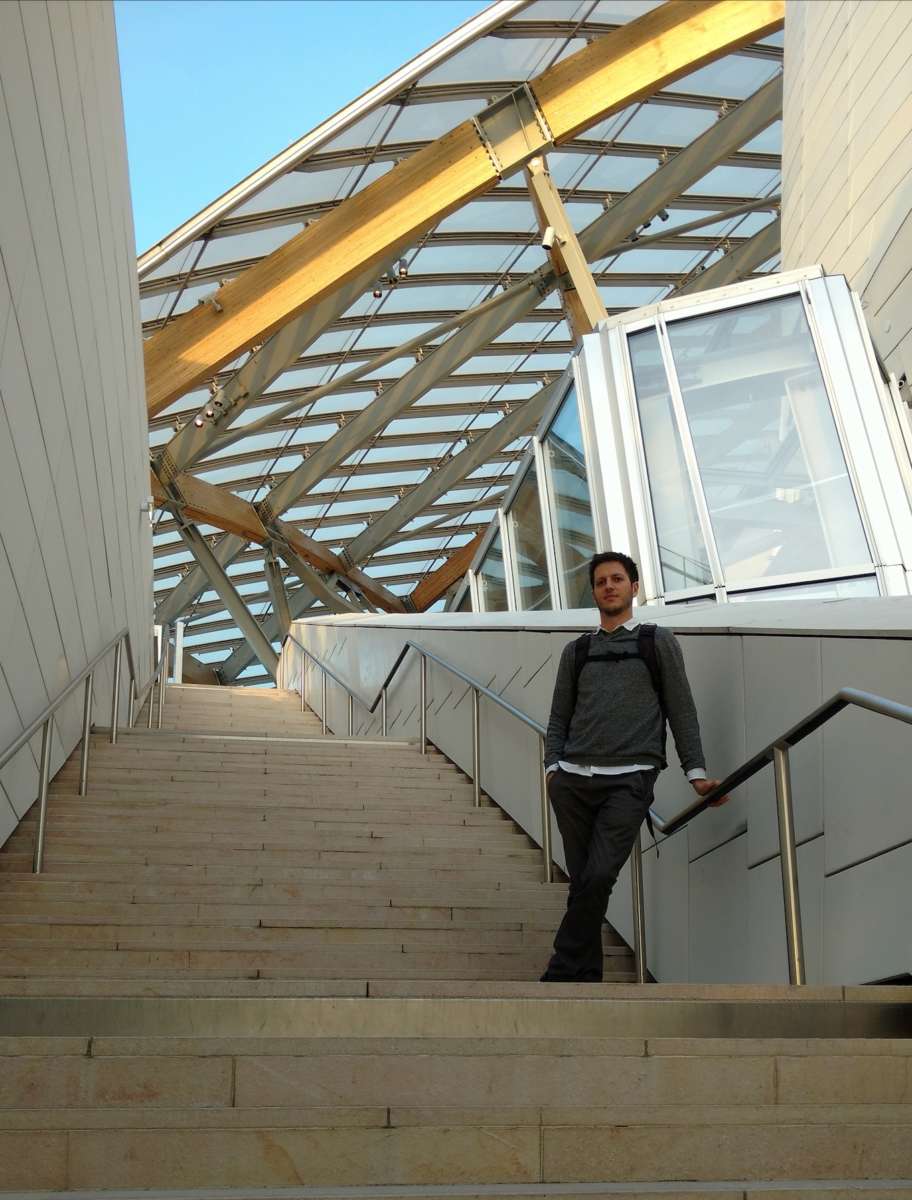 Renan at the Louis Vuitton Fondation, Paris
Renan Delepine – Designer
Renan joined Klopf Architecture as a Designer in 2020 after working in Paris and Phnom Penh. Born in France, he studied in Clermont-Ferrand, France, and A Coruña, Spain, graduating with a Master's degree in Sustainable Architecture in 2012. While in France, his architectural interests spanned a variety of fields including technical planning and supervising for a trade fair, drafting at a large commercial firm, and as a planner in a city planning and building department. He also worked at a "Design for 3D printing" startup and spent two years implementing and opening a new branch of an international architecture firm in Cambodia.
His explorations have led Renan to favor residential design because of the profound connection between architecture and its occupants, encompassing the pure emotional element of the design process. He shares in Joseph Eichler's principle of the ideal to make good design available to many people through the imaginative use of modern tools of the time. He is drawn to the concept of merging ideas from different fields and times and adapting them to meet today's challenges.
Renan and his family currently reside in San Francisco where he enjoys hiking, playing soccer, and creating DIY projects with his friends.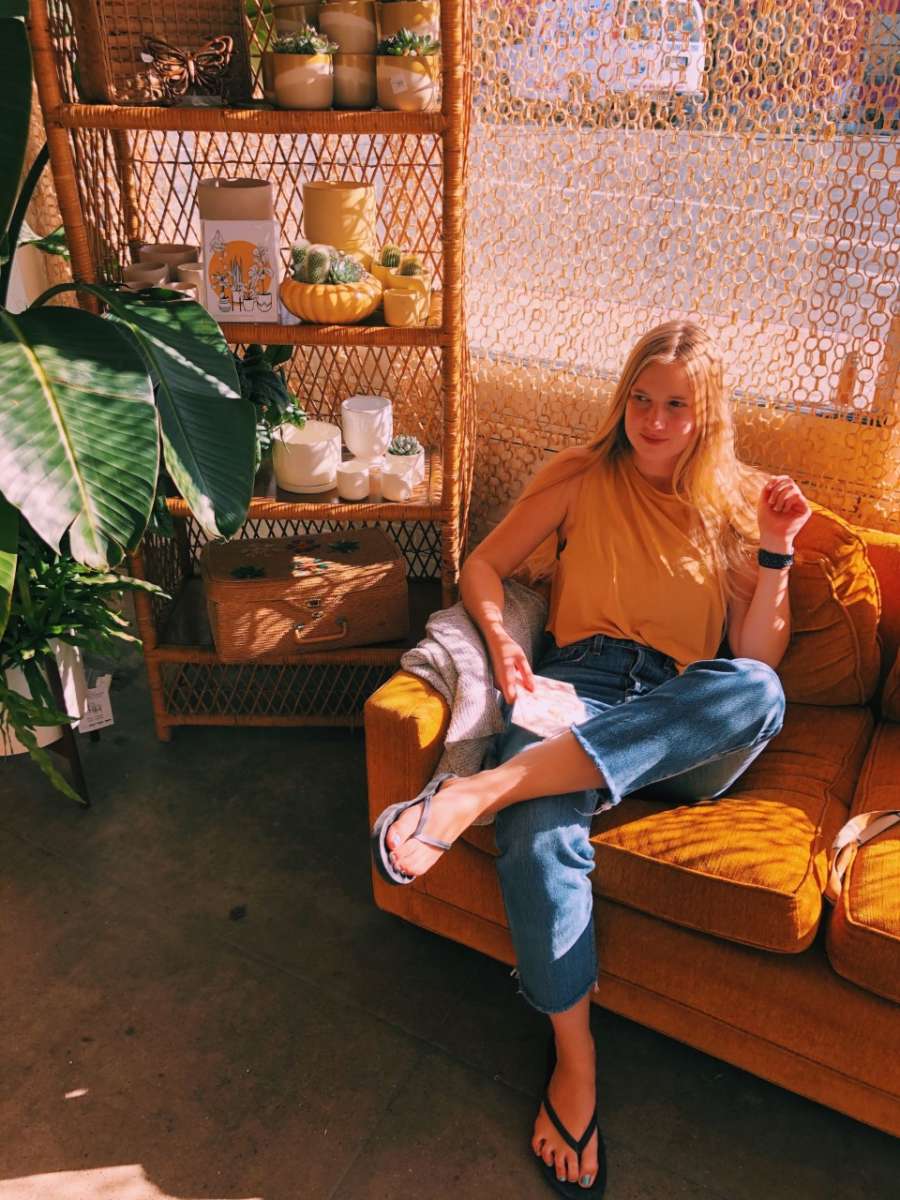 Elise in Encinitas, San Diego
Elise is a Designer at Klopf Architecture and LEED Green Associate, joining the firm in 2021. She grew up in Orange County, CA where she was introduced to a design style rooted in the culture, aesthetic, and climate of California. Growing up, she loved visiting Case Study homes in Los Angeles, walking through Eichler neighborhoods, and dwelling in mid-century Palm Springs architecture. Elise appreciates the blur between interior & exterior spaces, sleek lines, and pops of color apparent in mid-century modern design. 
She attended California Polytechnic State University, San Luis Obispo where she earned her Bachelor of Architecture with a minor in Sustainable Environments. She is currently studying for the ARE.
Elise lives in San Francisco where she enjoys creating custom designs & art prints, attending live music & museums, running, trying new recipes, and exploring the city.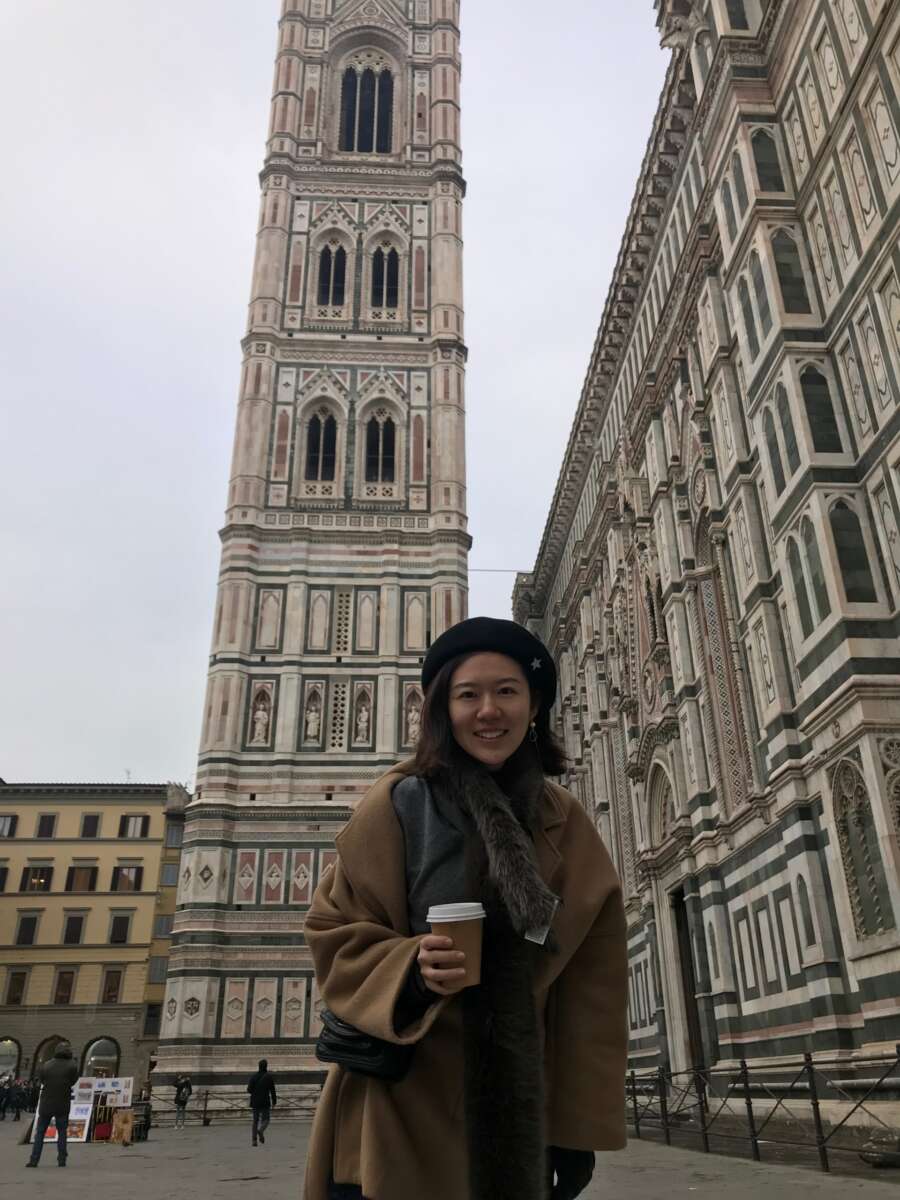 Fang is a Designer at Klopf Architecture, joining the firm in 2023 after working on a diverse range of projects in the Bay Area, spanning healthcare, office and residential designs. Her passion lies in seamlessly translating user experience into captivating spatial designs, where she delves into exploring the possibilities of harmonizing interior and exterior interactions.
She earned a Master of Architecture with an new media Certificate from the UC Berkeley and a Bachelor of Architecture from the Huazhong University of Science and Technology. Fang grew up in Wuhan, China and currently she lives in Daly City where she enjoys hiking and exploring the urban landscape.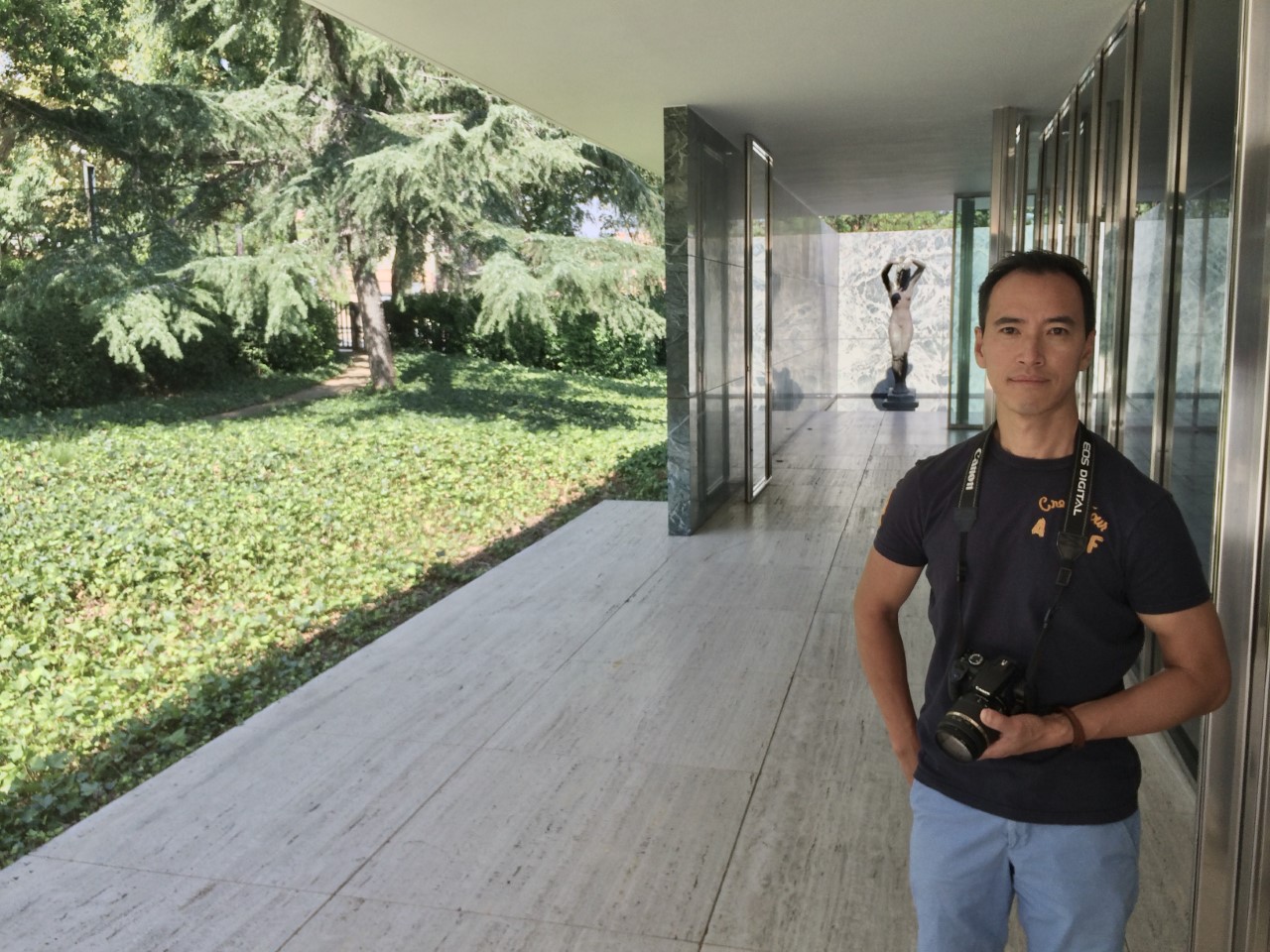 Curtis at The Barcelona Pavilion by Mies van der Rohe.
Curtis Lee – Program Manager
Curtis is a Program Manager and brings a wide range of experience to the firm. He is responsible for the overall client experience, business development, communications, project management workflow, marketing, and internal programs. With a strong focus on client service he's initiated changes to our workflow processes and how we engage with our clients, supporting the project managers and designers to ensure we deliver high value and a consistent level of client satisfaction.
Curtis was raised in Honolulu and with a BBA in Marketing from the University of Hawaii, he's led customer service and client relations in a variety of industries including the airline, hospitality, banking, financial services and at the Yale Center for British Art. His love for architectural design has led him to Klopf Architecture. Curtis lives in Berkeley with his partner and their dog Gidget, who are also satisfied clients of the firm.
Michelle Tholen, CPA – Marketing Director and Accountant
Michelle has been with Klopf Architecture since 2013 and is a licensed California CPA. She lives in the Oakland hills with her family and enjoys collecting and creating art.